Our Lenders
Because everyone's circumstances are different, it is our job to choose the loan the best fits you. Scope have an extensive selection of home loan and finance products available.
Home Finance
Finding your dream home can be a challenge, but being prepared and having your finances ready can make all the difference. We can help you find the right home loan.
Investment Finance
Looking to invest into shares or property to grow your investment portfolio can be exciting but daunting if you are not sure how to secure the finance you need. We can help you structure the right investment loan.
Vehicle & Equipment Finance
Whether you need a new vehicle or you require equipment for your business, you want to secure the right type of funding. We can help you find the right type of loan to get things happening.
1st Quarter Referral Prize Draw
See the results from our 1st Quarter Referral Prize Draw and the winner of the $1,000 restaurant voucher.
Receive Latest Finance News
Receive your FREE quarterly Finance Matters Magazine
Finance Matters Magazine helps keep you up to date with the latest news and helpful information on finance, property, and general lifestyle issues. 
All we need is your name, postal address & your email address.
View Sample
Monthly Focus
January 2018
Keeping Your Credit Score Healthy
We have all heard of credit reporting, but have you heard of credit scoring?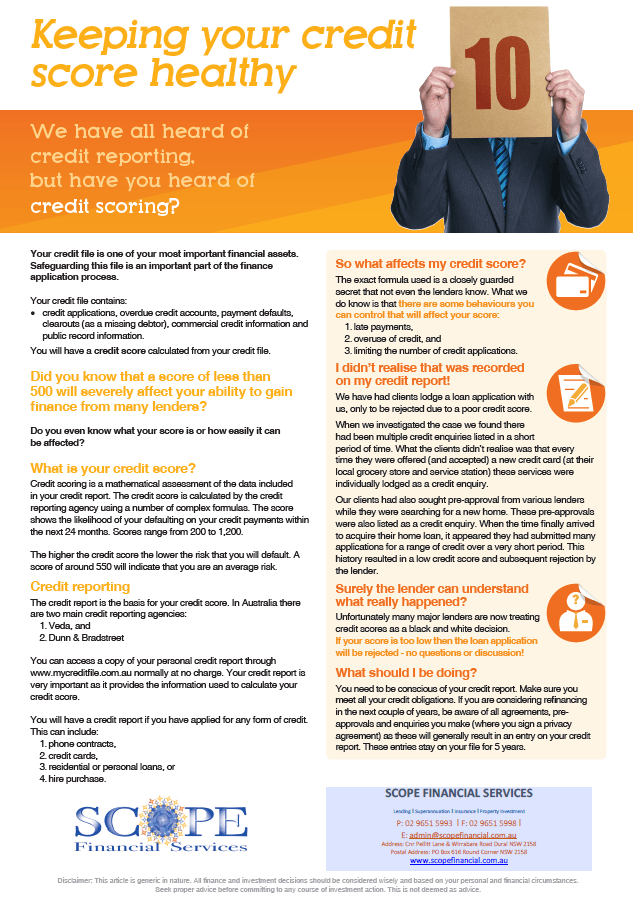 Click to make an appointment today
Download Resources
Disclaimer
This website contains information that is general nature. It does not take into account the objectives, financial situation or needs of any particular person. You need to consider your financial situation and needs before making any decision based on this information.
Lending Authorisation
Scope Financial Services
Australian Credit License Number 391174
ACN 070 631 186